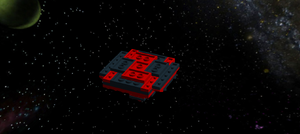 type:defense
piece count:51
FACE: slicer
Edit
piece count:1
originally red, it depicts two blades with a tie in the center.
CONTROL WHEEL: slicer
Edit
pace count:4
it is red and black in color, and is made of 4 blades.
FUSION WHEEL: pound
Edit
pound is a red/black heavy defense wheel with lots of blades with aditional parts for more wheight. it has two notches for defending and without the extra parts is quite rectangular, increasing its defense. it cut through the air with its blades, increasing stamina. overall this is a great endurance wheel.
TRACK: 125
Edit
piece count: 1
It is basically the height of a 3L track therefore giving endurance and defense. it is square to further resemble spin track, witch has 6 sides.
piece count:3
WD is basically 2 1L tracks onto of each other with a stud in the center, if works well in all categories.
Community content is available under
CC-BY-SA
unless otherwise noted.