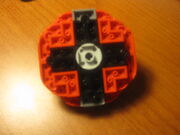 Vexillium Phobos 4L MF is one of the six mutant beys in LFB Sonic Speed. It is roughly based on Flash Saggitario from Metal Fight Beyblade 4D. Phobos's un-twisted form is Prong Phobos Ki:D.
Face Bolt: Phobos
I.D. Pattern: Phobos
Phobos has an almost circular pattern to it but it isn't very aerodynamic.
USE IN OLDER LFB CUSTOMIZATION
Deucalion Phobos DD2L EMF
Meta Wheel: Vexillium Secret
Edit
This meta wheel, without the meta core, is the meta wheel Secret. When used with Scuttle it forms the mutant wheel Sionis.
Meta Core: Mutant Abstructor
An addition to Vexillium.
USE IN STRIKE CUSTOMIZATION
Vexillium Faunos 2L GGF
Track: 4L
Edit
A standard 4 layer track.
Tip: Mode Flat
Edit
Can be attack or defense depending on launch angle.
USE IN STANDARD CUSTOMIZATION
Scuttle Khepri 4L MF
Community content is available under
CC-BY-SA
unless otherwise noted.